Falcony's new integrations, webhooks and glimpse to the future
We are eager to tell you about the different things we have been cooking under the hood in our product development for the past months. We also want to shed some light on our future plans.
This is the third blog post relating to our September Launch Event. Make sure to read the previous blog posts about the template library and statistics improvements and the linked observations.
Integrations and webhooks
Warning: technical buzzwords ahead! (Which you probably already assumed from the title of the blog). But need not worry: we will always have the Techie-English-Techie translators with us when we write about integrations and other technical updates.
Whenever we talk about integrations, what we are really talking about is making it easier to import (=bring) data to Falcony and export (=take out) data from Falcony to any external system. Falcony was built from day one to allow integrations to be done 10x easier than in typical legacy systems and today we are proud to say that we have several new integrations released that can benefit a majority of our customer base.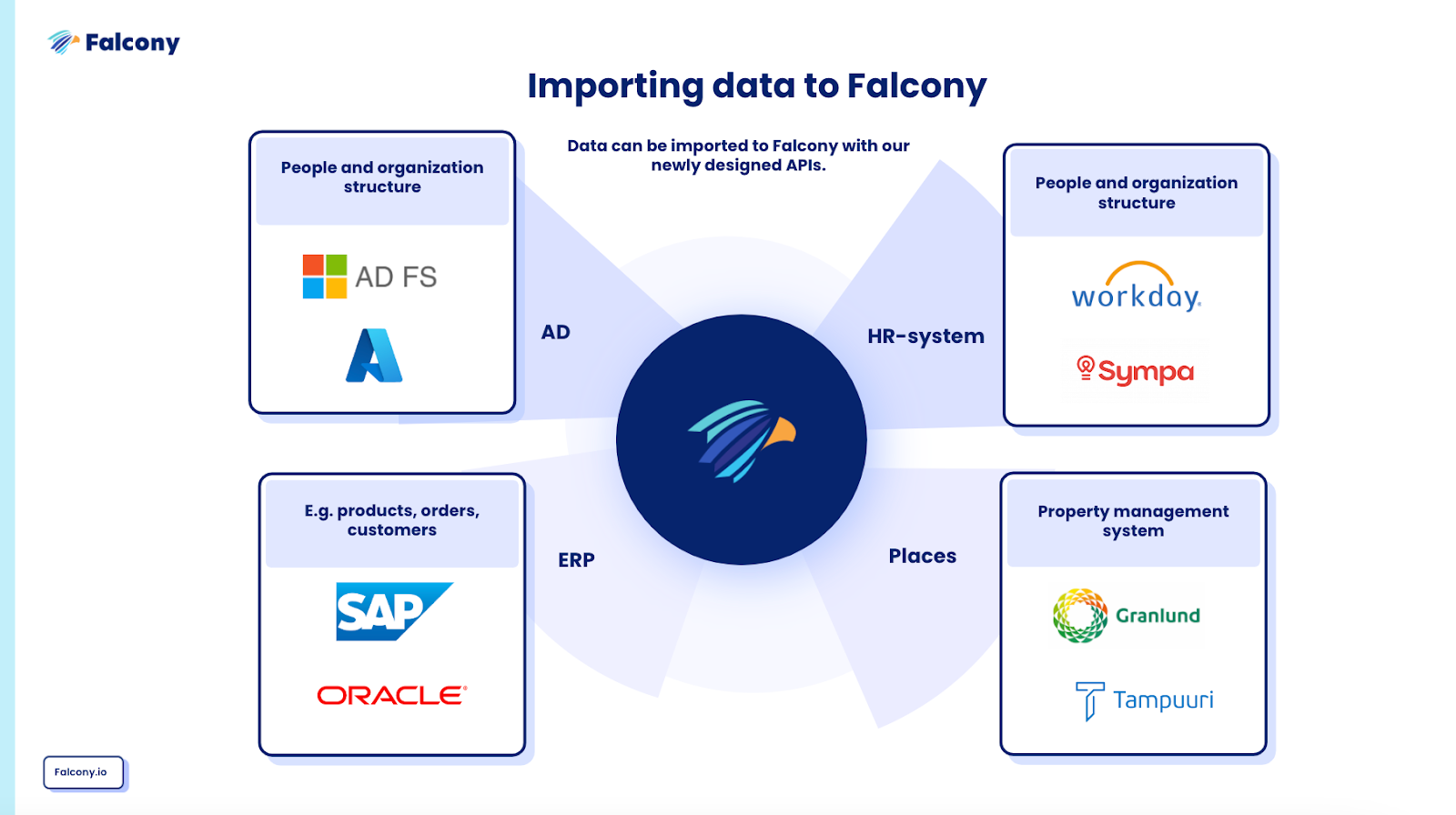 Let's begin with the importing of data to Falcony. We have new APIs (application programming interfaces) for importing organisational data from Identity Access Management systems and Human Resource management systems. For many of our readers (maybe excluding IT professionals) these may again sound like buzzwords but to translate it into benefits: this will greatly reduce the time of organisation admin users needing to update the user access rights in Falcony.
And of course the same applies to places (that some of of customers use by the name cost centers). The places can be automatically imported from Property Management systems, Enterprise Resource Planning (ERP) systems or other management systems where they are stored using our places API. Again if these change often there's no need to manually remember to add or update them in Falcony.
Sounds good? Well, we've got more! We also have a new API (code rows still fresh) for importing data to individual observation questions. This means you can have for example your products, customers, sales orders, chemicals and projects as searchable items in select or multi-select questions. A very practical example would be an employee reporting shoplifting observations. Instead of inputing the product name manually, she can now search the product name in a select field called 'stolen products' so that the information is easy to input and of course structured for further analysis. Importing information to select and multi-select field also allows to bring further data along with just the name. Continuing with the products example, you might also want to import the VAT-free prices, prices with VAT and product categories. All of these details can be done with the same API and the employee would only need to input the product name there.
What about exporting data out from Falcony? Previously we only had the analytics database but nowadays customers can also use webhooks in order to get real-time API notifications of reported observations. What are webhooks? Again some nice-sounding vocabulary here, but with the webhook integration customers can easily set up for example SMS alerts for certain types of observations. And besides text messages, webhooks enable almost limitless new use cases. They could send "alerts" as Teams-, Slack or Whatsapp notifications, show certain information in digital bulletin boards or even generate some Internet of things (IOT) applications like flashing a warning light or ringing a bell. Let your imagination fly and let us know!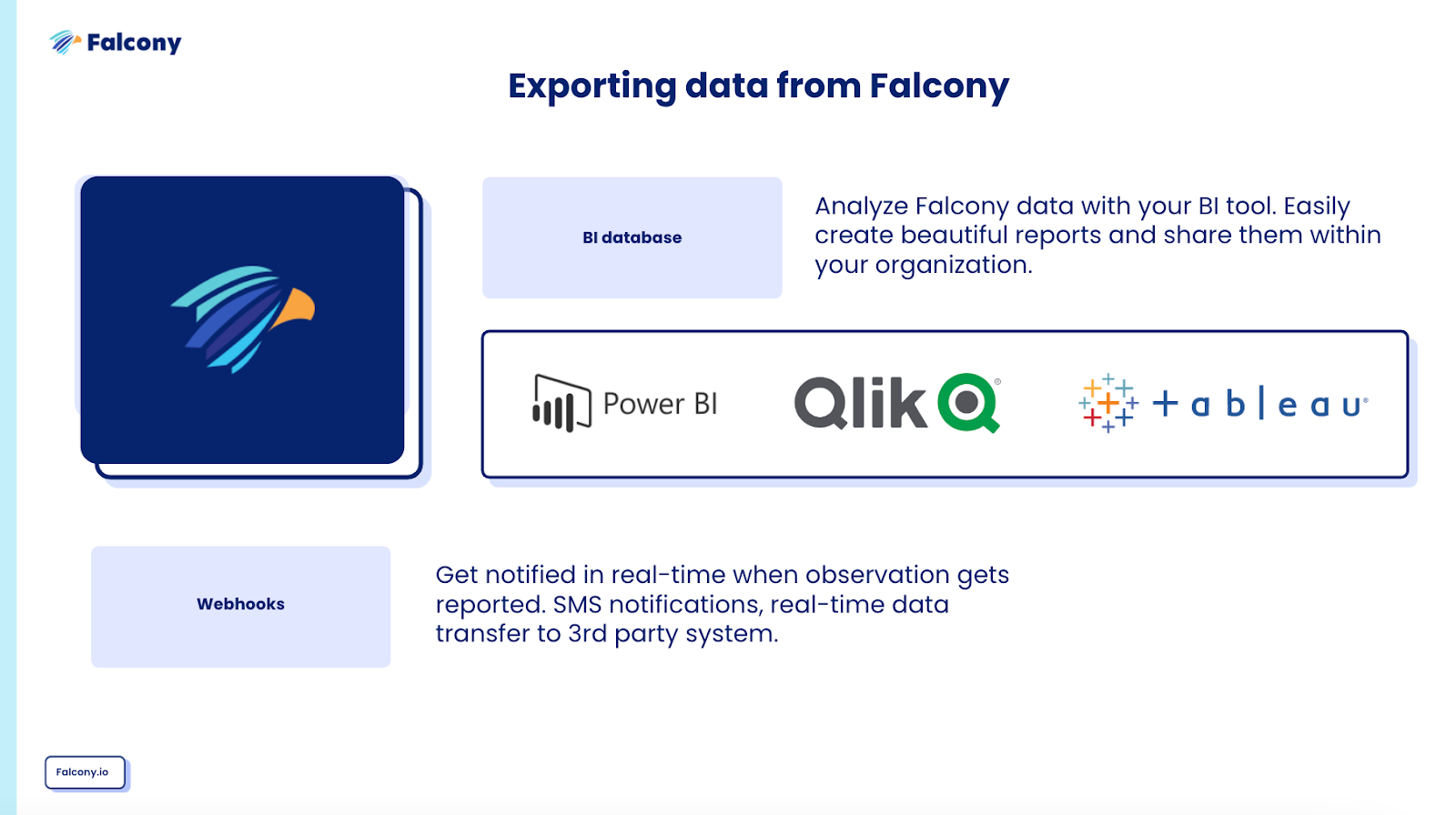 Continuing to one more buzzword: database connections. Let's first clarify what it means. The most common use case is to enable customers to visualise or show Falcony data in their own business intelligence system, data warehouse or data lake tools like PowerBI, Qlik, Tableau or Snowflake. This has pretty much always been available, so what's changed then? We can nowadays provide both daily and real-time connections to our analytics database.
Then some more use case specific integrations. Within safety involvement, many of our customers report accidents in Falcony. We now have ready-made integrations to all big-four Finnish insurance companies. Once the integration is set up, the reported accidents will automatically create insurance claims in given insurance company's system. What this means in practice is that there's no need for employees (or superiors) to input accidents into multiple systems. One of the reasons why we highly suggest this practice is not only because of time savings and avoiding human error but also because the accident investigations can automatically be opened based on the accident reported through Falcony. Let this rhyme stay with you: an accident well investigated is another one avoided.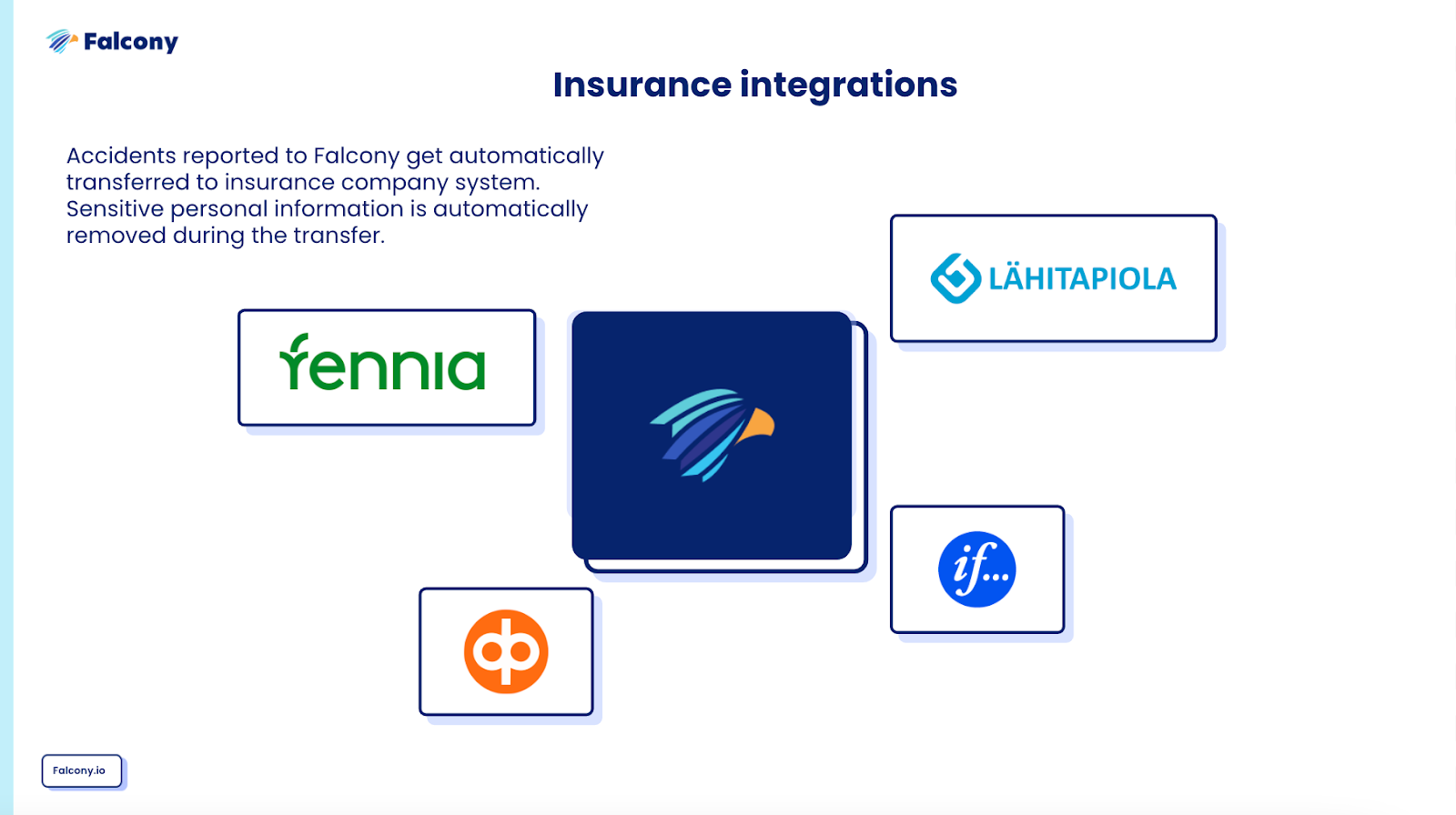 Really similar to insurance company integrations are service request integrations but they come with a twist. There are very often observations that are related to properties and many customers want these observations to create service requests in their property, facility or maintenance management systems. We now have integrations with many of these, where not only does Falcony automatically create service requests but it also receives updates from the service requests. In other words when the service request or work order is closed in the property management system, it gets automatically closed in Falcony.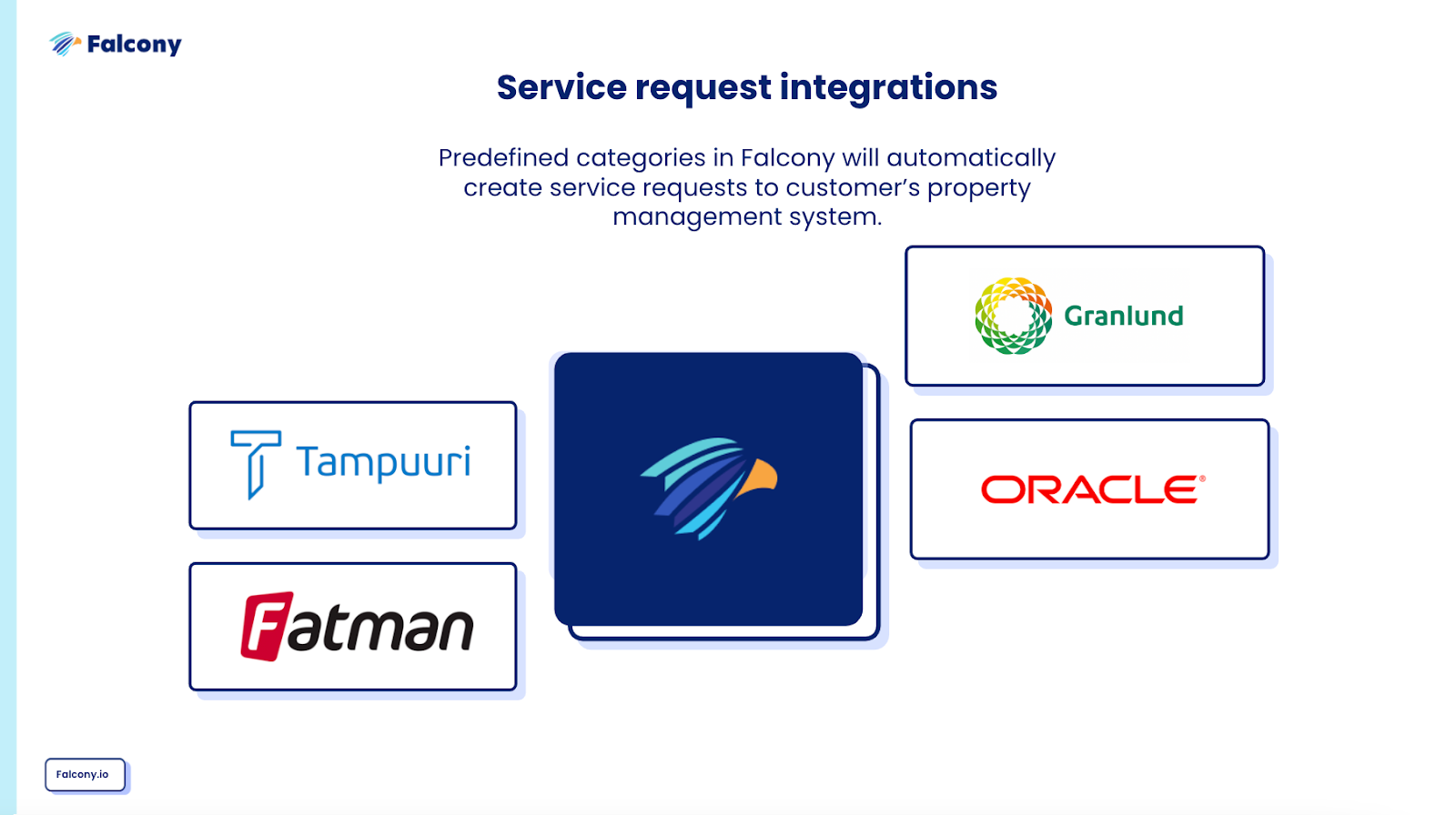 Glimpse to the future
Besides all the weekly updates we are all the time delivering with our wizard coders, we also have big plans for the future. Our next big feature is Audit Scheduling which will be part of the launch event early next year. With audit scheduling it will be possible for organization admins to create plans for audits - what kind of audits need to be conducted and when.
The plans can be one off or they can recur based on chosen intervals (e.g. weekly, monthly or annually). For example one could set up that in Southern Finland each manager needs to conduct a risk assessment every quarter. Then the admin can easily track the progress of the schedule. Which managers have conducted the audits and which have missed the deadlines.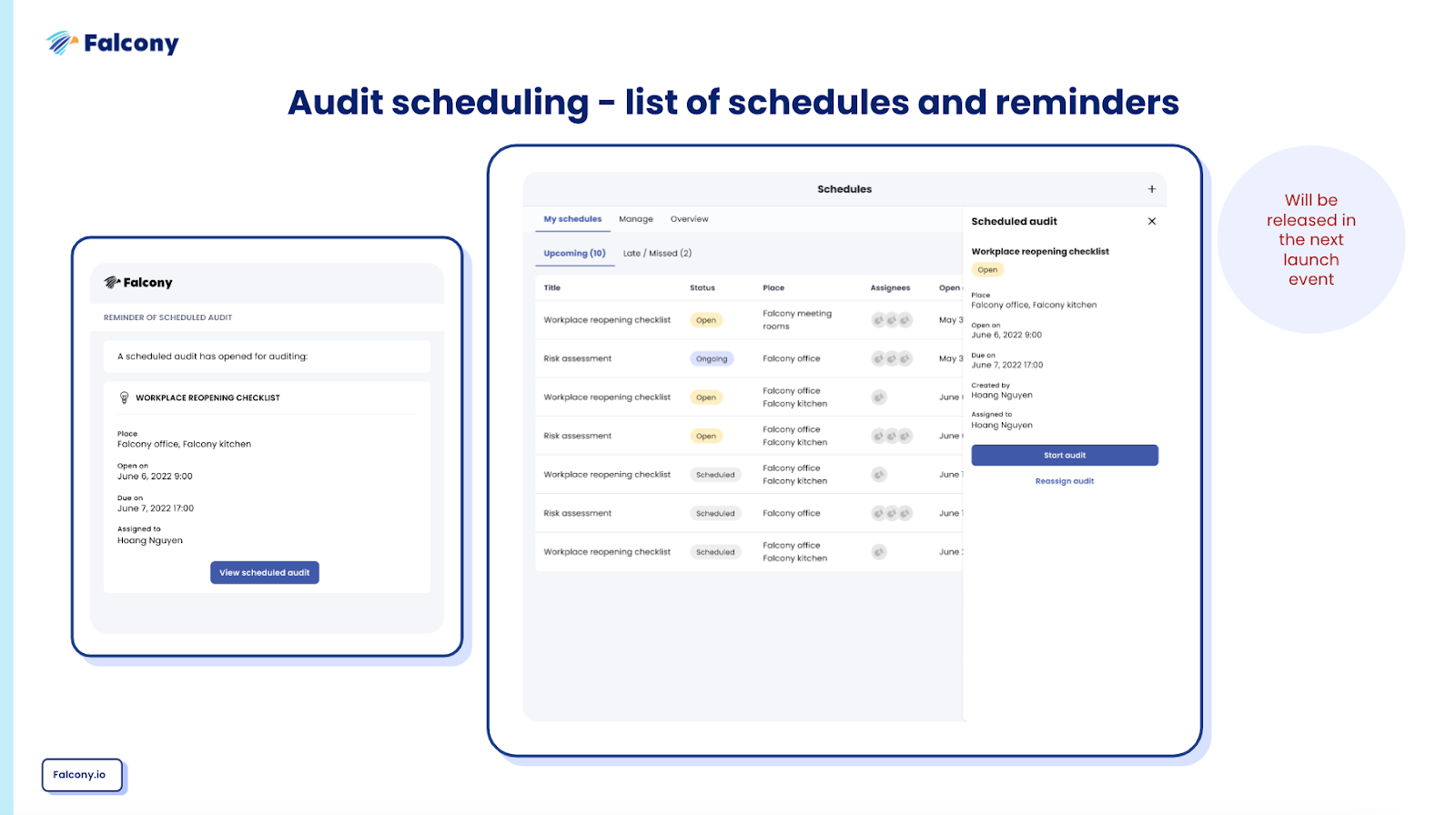 For those who know us, it is likely not a surprise that we actually listen to the customers when deciding the roadmap priorities. How we weight the decisions are based on reach (how big percentage of the customers can benefit from the feature), Impact (how much can we expect the feature to help customers for example in involving more users more often), Confidence (how sure are we that the feature delivers what we expect) and Effort (how long does it take to deliver the feature). Audit Scheduling represents a feature that has a high effort but high impact and reach and we try to increase the confidence by involving beta testers even in the user experience design phase. If you want to test this feature in the beta phase, please contact us and we'll reward you with providing the functionality later on with a drastically price.
---
We are building the world's first operational involvement platform. Our mission is to make the process of finding, sharing, fixing and learning from issues and observations as easy as thinking about them and as rewarding as being remembered for them.‍
By doing this, we are making work more meaningful for all parties involved.
More information at falcony.io.

Arttu Vesterinen
Chief Executive Officer
Related posts
Just six months ago we launched our new brand Falcony and merged our two formerly separate...
Involve your stakeholders to report
At Falcony, we create solutions that multiply the amount of observations and enable our customers to gain greater understanding of what's going on in their organisations, areas of responsibility and processes.