Falcony launches template library, improved statistics and more
Just six months ago we launched our new brand Falcony and merged our two formerly separate products, audits.io and incy.io, under a single platform.
Since then we have been extremely busy developing new major functionalities to the Falcony platform and are once again happy that we can finally pop the hood.
This is the first blog post from our recent launch event. Make sure to check the recording here.
It's all about involvement
In the past year, we have talked a lot about involvement and why it matters. Involvement is predominantly a shift that's taking place in every employees' minds. With Spotifys, Whatsapps, Ubers and Wolts in our personal lives, we've learned to expect the same easy-to-use, on-demand and involving experiences at work too.
We often get asked what involvement is. A good way is to contrast it with 'engagement'. Although sometimes used as synonyms, involvement is definitely not engagement. 'Engagement' is the passive acceptance of something that often gets manifested as clicks and views. But 'Involvement' always requires awareness and thoughtful action. It is the active pursuit of something that matters to you as an employee or a professional, like safety, security, risk management or customer experience. Involvement is about actively raising your voice when something's not right and being part of what gets done about it. And the more people involved, the more accurate situational image and the better decisions.
One of the many frameworks we use when educating our customers, prospects, users and partners around involvement is what we call the involvement methodology. It's a framework that helps organisations, departments or teams to organise their data gathering ways into a process that both involves more people and helps to turn current outdated practices into improvements and better practices.
To help with this, the first step in the involvement methodology is called Define. This step helps to codify, document and operationalise the current processes or practices into checklists or forms that can then be used for doing audits, reporting observations or incidents or any other types of data gathering.

But many organisations still face the problem of where to begin. No company can involve everyone for everything immediately, but even creating simple data gathering or communication procedures like "safety walks", "tenant announcements" or "near miss reporting" often starts with fierce googling and reinventing the wheel of certain templates. This is a big barrier for most companies to implement any process fully that really works. Most companies just don't have the time, resources or expertise to invent and define different audit, inspection and reporting processes.
Launching the template library
Which brings us to the main update we just released yesterday: Template Library. It is in plain english a collection of audit, observation, request, order, form, announcement, risk assessment and inspection templates that anybody can find and use from an open website. The site is available in templates.falcony.io.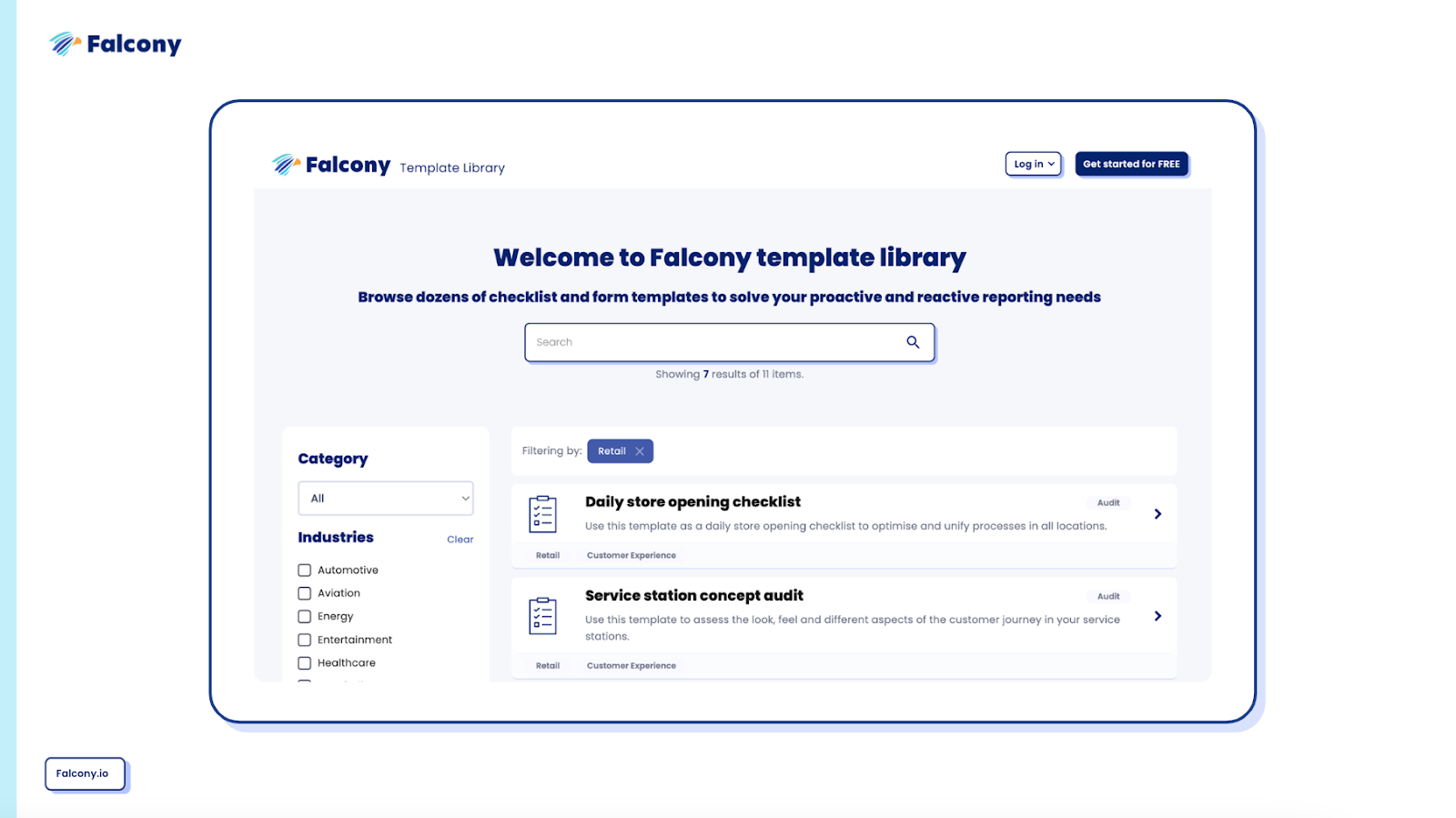 We have three tenets to remember why we believe the template library is going to be great. First of all there are other so-called template libraries or collections of templates, but they have ended up to be more of a pile of paper than interesting sources of best practices. The reason is that for the library to be useful, each template you might be looking for has to be valuable. Why would you otherwise keep looking for more?
So that's the first tenet: quality. Instead of aiming for quantity, we promise valuable, high-quality templates for everything that we here at Falcony or the community adds there, which brings us to the second tenet: this is a community-driven effort. Anybody can and should suggest templates there. Whether you end up requesting templates that you need or suggesting your own best practice, we will have a curation process to keep the quality of the templates high. The best experts we know are you, our customers. By sharing your best practices, what you'll get is visibility in the library, respect from the community and of course good karma.
The more templates there are, the more effort it takes to find what you might be looking for whether you are a SME looking to implement accident reporting or an enterprise improving existing work permit or facilities management processes. No matter how many templates there are, we promise to keep the library actionable. To do that, what we need is more context - what is the best practice for what industry, vertical, use case, function, culture, regulation, or even season or time of the day. And how that works is with great search and filters. Find the relevant template you need, verify and test it right there in the library, implement it with just a few clicks and make small edits with our flexible template editor.
What you can expect for the future is that the number of templates grows a lot, more languages will be added soon and bundles of templates will make entire new use cases easier to implement. Go ahead and test it out!
Statistics improvements
Besides the template library, we've worked extremely hard to improve a lot of other aspects of the Falcony platform. Our philosophy has always been to push the data to the frontline for the purpose of involving more employees for better decisions and practices. Well-made reports and statistics help to explain why those audits, observations, reports, feedback and announcements matter. Involvement happens at every level of the organisation, even in the analysis and insights phase.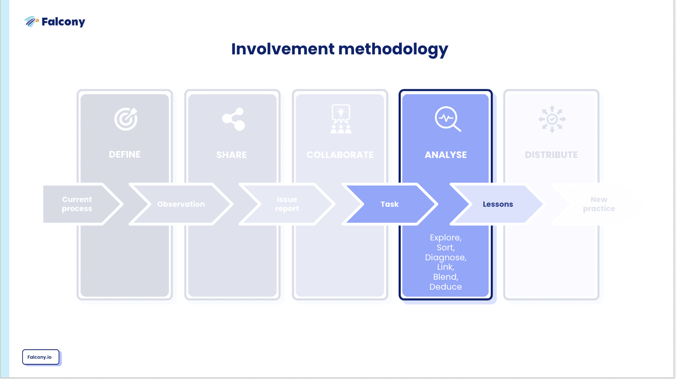 On the statistics side all customers can finally save their chosen reports on the front page of the statistics section.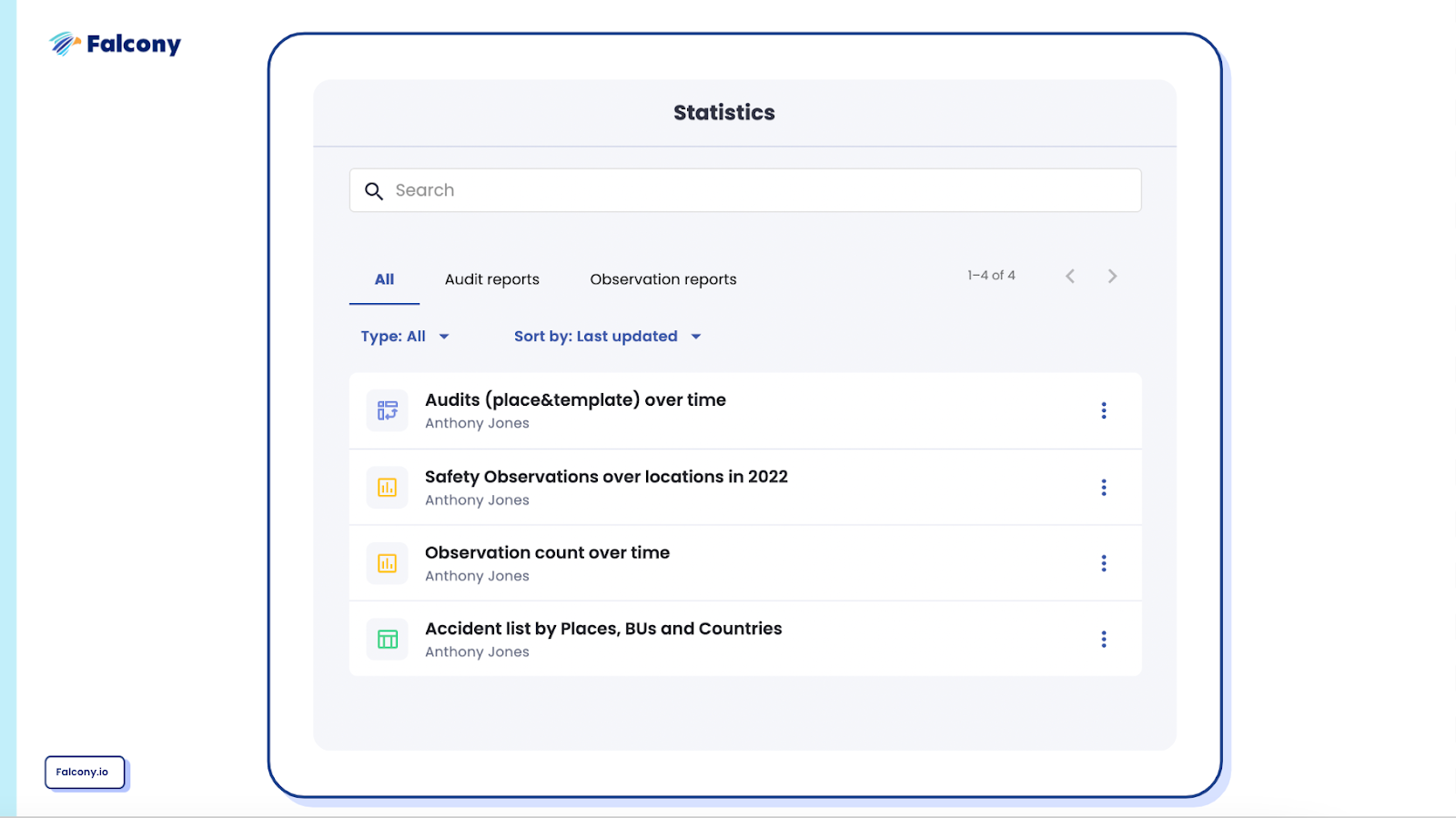 Saved reports cover all types of reports from bar charts and pivot tables to table reports. If you've previously saved your reports as browser bookmarks, Falcony will automatically suggest saving the report. What gets saved then? Of course all your chosen rows and columns or horizontal and vertical axes but also all the filters and sorting you've added.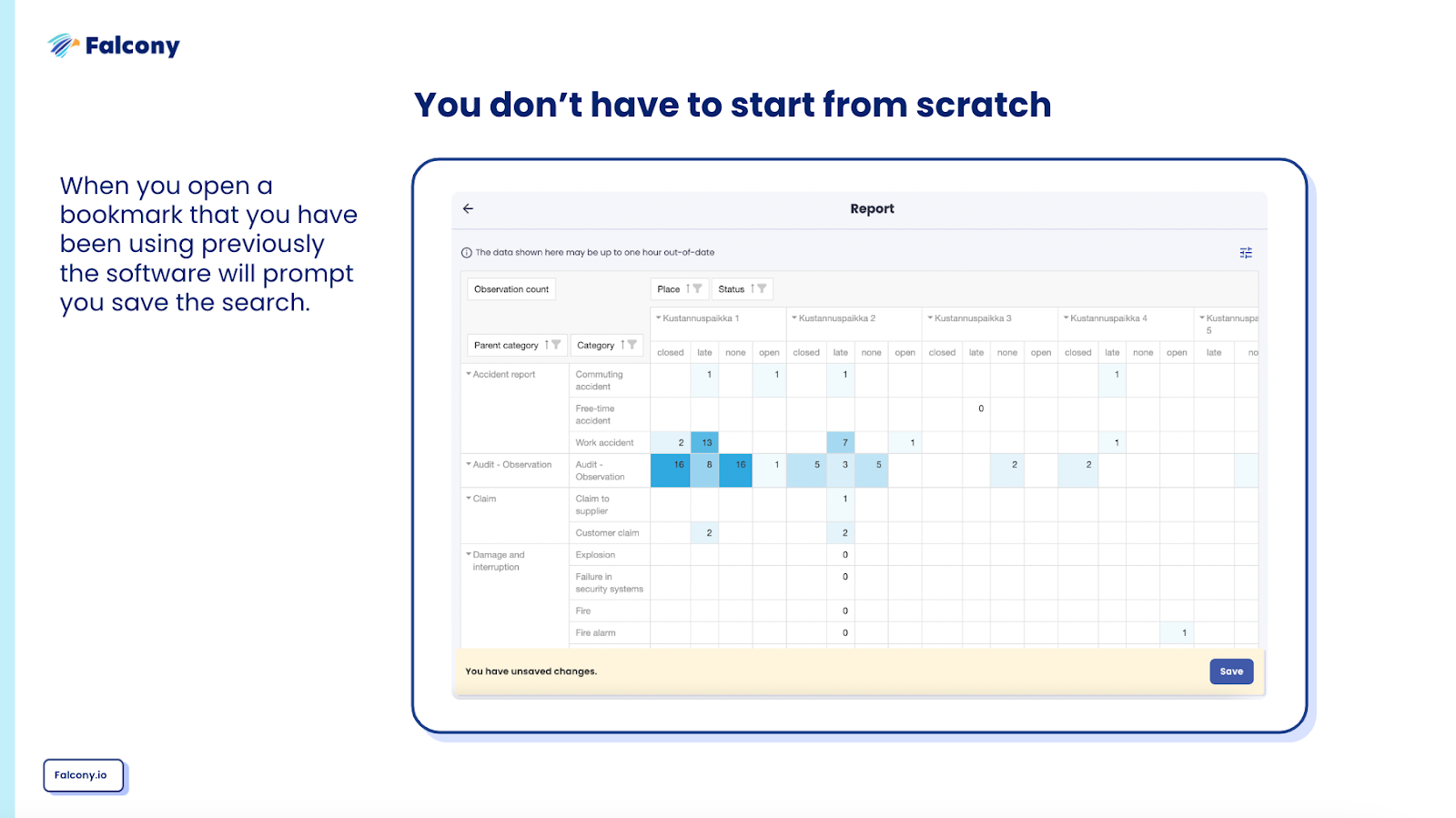 We will also be enabling sharing the reports with your organisation, thus involving everyone with better reporting capabilities and a single source of truth. If you need any help with creating or editing the reports, don't hesitate to book a meeting with you customer success team.
---
We are building the world's first operational involvement platform. Our mission is to make the process of finding, sharing, fixing and learning from issues and observations as easy as thinking about them and as rewarding as being remembered for them.‍
By doing this, we are making work more meaningful for all parties involved.
More information at falcony.io.

Arttu Vesterinen
Chief Executive Officer
Related posts
We are eager to tell you about the different things we have been cooking under the hood in our...
Involve your stakeholders to report
At Falcony, we create solutions that multiply the amount of observations and enable our customers to gain greater understanding of what's going on in their organisations, areas of responsibility and processes.