Product Highlight: Anonymised Reporting with incy.io
For whistleblowing confidential and anonymous reporting is a prerequisite for every user. However, it's not just wrongdoings or crimes people may have a barrier to report with their own name. Hence we have made anonymous reporting possible even with your normal incy.io plans. This feature was originally launched in order to comply with aviation and maritime regulations. But witnessing how well it has helped a lot more people come forward and report previously unreported incidents, near misses and observations, we decided to include the feature for incy.io Team plans and Operations plans with no extra charge.
The bigger the human error behind any incident there is, the better anonymising helps to prevent retaliation and blame game. It provides a safe place for employees to report any malpractices and malicious activities or behaviour they notice in the organisation, not just in relation to Whistleblowing but other types of incidents too.
Why It Matters
All incidents matter when it comes to learning from them and making the organisation more resilient and adaptable, which is why the option to report anonymously should be available in specific situations where the psychological or social barriers are high for the reporter (e.g. COVID-19 restriction violation, harassment, bullying, costly workplace incidents etc).
Some industries such as Aviation, Maritime, Railways and Healthcare have already created confidential reporting systems so that near misses, malpractices or other mistakes aren't hidden or tucked away from others to learn from.
How It Works In Incy.io
Anonymised Questions
Any question can be marked as anonymised, which makes sure that the answers to those questions are only visible to the Admin users and the original reporter of an observation. This enables the visibility to the incident for more people to maximise learning even if some details such as identifying information are being kept to fewer eyes.

Read more about anonymised questions in our help centre.
Anonymised Reporter Categories
This function makes it possible to ensure the anonymity of the person reporting certain observation categories. The reporter will be shown as anonymous reporter to everyone except for the admins. The anonymity applies to:
Reporter name in the observation
All activities made by the reporter (for example when he changes some fields in the observation)
Any comments made by the original reporter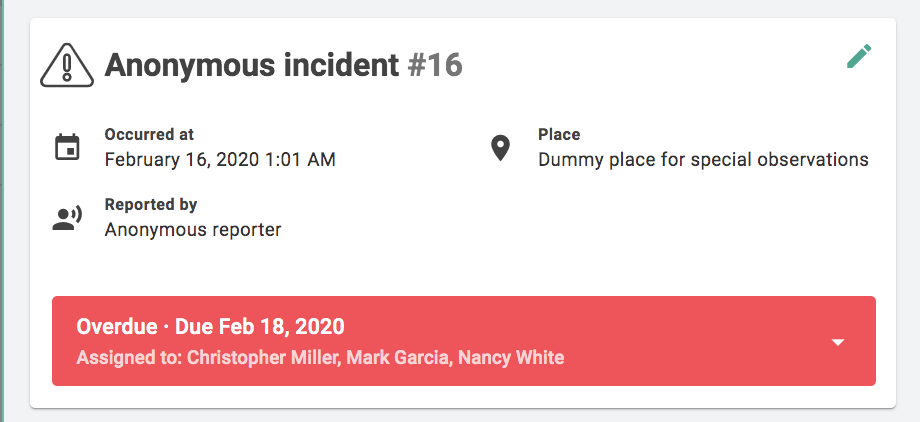 Read more about this functionality here.
Conclusion
We are on a mission to get rid of all possible barriers between open reporting of observations and problems. Psychological safety is a huge factor that is often undermined by other organisations than those in Aviation. The anonymised reporting functionality is essential to all organisations who wish double, triple or increase in order of magnitude the number of observations. Incy.io has the option to make the reporting process anonymous with the anonymised reporters function, and make it possible to ask anonymous follow-up questions to the original reporter. It prevents retaliation and blaming against the reporter, and truly encourages more reports from the field.
Don't have this function activated yet?
No worries! It's available to all incy.io Team plans, so if you don't currently have it enabled contact our customer success team, and we will either activate it for your organisation or are happy to discuss more. The feature will otherwise be rolled out to all incy.io Team plan customers next year.
If you don't currently have incy.io (now known as Falcony | Observe) in use, sign-up for a free trial to get started.
---
We are building the world's first operational involvement platform. Our mission is to make the process of finding, sharing, fixing and learning from issues and observations as easy as thinking about them and as rewarding as being remembered for them.‍
By doing this, we are making work more meaningful for all parties involved.
More information at falcony.io.

Camilla Petersen
Sales & Marketing Manager
Related posts
University incident reporting, as well as school incident reporting, are critical for the...
Involve your stakeholders to report
At Falcony, we create solutions that multiply the amount of observations and enable our customers to gain greater understanding of what's going on in their organisations, areas of responsibility and processes.