How Incident Reporting Decreases The Number Of Injuries
Workplace incidents are costly for everyone involved but a simple way to avoid this is through proactive reporting.
It is common knowledge that reporting incidents reduces the number of injuries in the workplace. However, it's not necessarily obvious why that is.
How Incident Reporting Can Save You
Research has shown that for every 90 near-miss incidents that occur, an accident will occur. By working on reducing the number of minor incidents, you can prevent major ones through improved operations and policies. Near-miss reporting allows those in charge of health and safety policies to highlight and correct shortcomings.
Incident reporting is a tool to be used for improvement. Near-miss reporting is ideal because no one is actually hurt during these incidents but it helps to highlight serious issues.
Employees Can Offer Insights
Injury reporting can often be perceived as an opportunity to place blame on employees. This leads to employees being afraid that their managers will see them as negligent and blame them for the accident. While negligence may be a possibility, employers need to ensure that there are sufficient safety measures in place. We are all human beings and mistakes can happen.
For example, it is not uncommon for tools to be dropped at a building site. However, if workers do not have proper safety gear such as hard hats, items falling from great heights can be fatal. A worker reporting the incident will be able to provide specific details as opposed to an employer only seeing the result of the incident - or worse, never hearing about it.
Employees can offer great insight into what the workplace looks like in practice. Thus, it is crucial not to play the blame game but rather encourage reporting from the field to reduce the number of injuries.
Heinrich's Pyramid vs SIF Potential
Heinrich's Pyramid (also referred to as Heinrich's Triangle) is a theory around the prevention of industrial accidents. It theorises that if you prevent the minor incidents at the base of the triangle (or pyramid), it will prevent those more serious ones at the top too.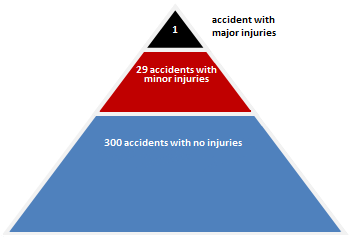 Originally developed in 1931, it has since been expanded on by Frank E. Bird to include different categories of accidents (from the bottom):
Unsafe acts
Near-misses
Minor accidents (injury without major or lasting damage and which you can remedy with first aid)
Major accidents (injury resulted in major or lasting damage)
Death
While the idea that preventing minor incidents helps to prevent more serious injuries or death is true, many have argued that Heinrich's theory places too much emphasis on employees. This is where SIF potential comes into play.
SIF (Significant Injury or Fatality) Potential involves near-miss incidents where there was potential for serious harm or death. Opponents of Heinrich's Triangle believe that near-misses are more useful to consider if they have a high SIF potential.
Final Thoughts
Ultimately, all workplaces should encourage incident reporting. Regardless of how serious a case may be, it is beneficial for companies to audit their safety policies. In doing so, both employees and their employer can protect themselves from injury.
Safety metrics and KPIs set the foundation for the best incident reporting practices. How is you organisation utilising them? If you want to learn more about the subject, we recommend you to check out our FREE guide:
---
We are building the world's first operational involvement platform. Our mission is to make the process of finding, sharing, fixing and learning from issues and observations as easy as thinking about them and as rewarding as being remembered for them.‍
By doing this, we are making work more meaningful for all parties involved.
More information at falcony.io.

Arttu Vesterinen
Chief Executive Officer
Related posts
Incidents and observations come in many types, such as safety incidents and accidents, near...
Involve your stakeholders to report
At Falcony, we create solutions that multiply the amount of observations and enable our customers to gain greater understanding of what's going on in their organisations, areas of responsibility and processes.