Product Highlight: Signature questions in Falcony | Observe
Since the inception of Falcony | Observe, we envisioned making reporting and managing all types of observations and forms as easy as possible. To enable this we have introduced multiple question types to ease the collection, workflows and sharing of information. Lately we have rolled out a new question type of digital signatures.
How it works
Just like other question types, signature questions can be created by admins in the "Questions" section found on the "Administration" tab. Once created, the signature question can be attached to certain categories in the "Categories" tab to the right questions. You can create as many signature questions for different use cases and categories.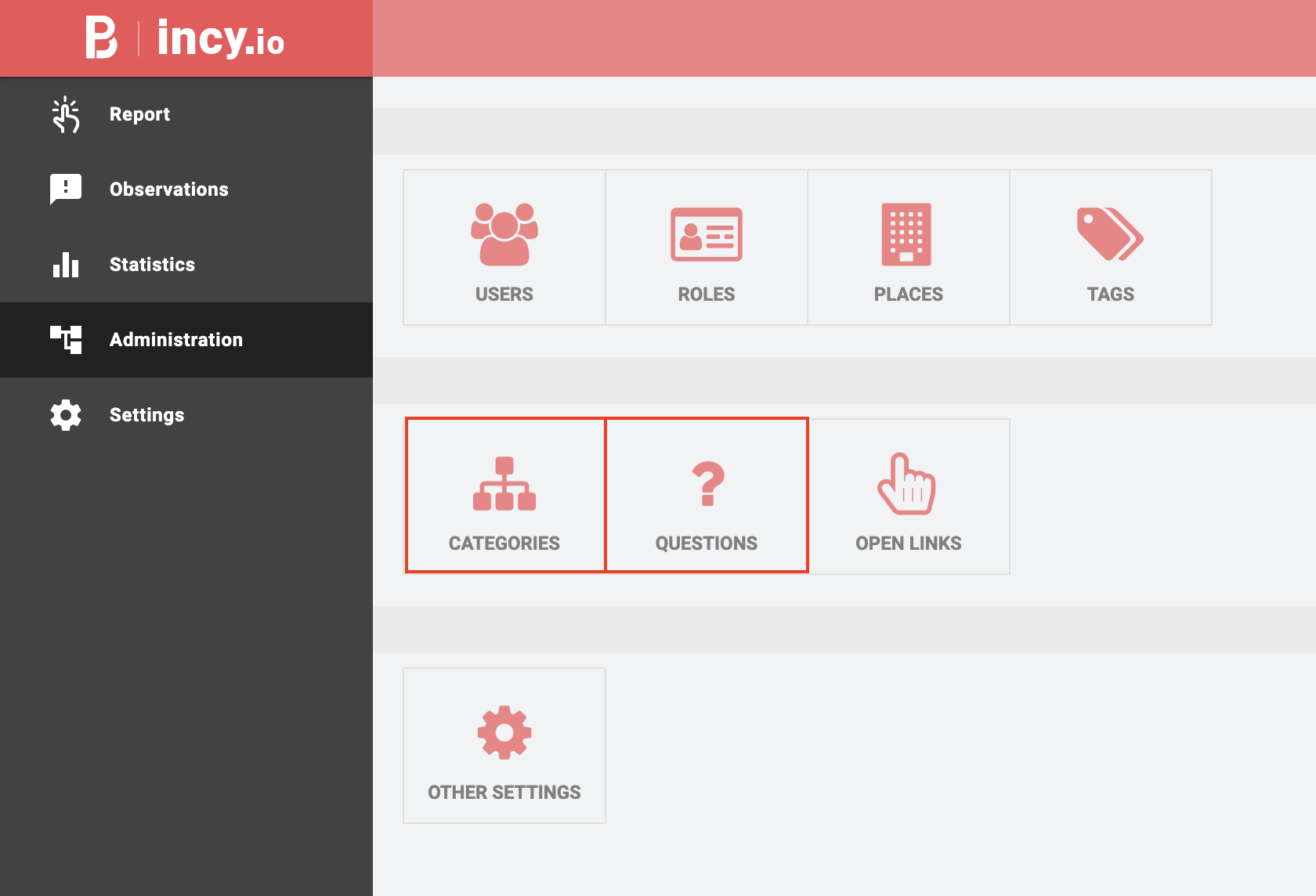 Once set, the signature questions work on any device. Each signature question asks the user for the signature and signee name. Next we will go through three use cases, where this question type is really helpful.
Key receipt forms
It is a common practice for service providers to sign out a paper form when they have received a key for short term use in working buildings. Often physically in receptions or documented by property managers, a piece of paper with a table-like list of all recipients is not optimal from a personal data protection point of view. And even bigger problem is the archiving and potential loss of the paper, because no backups exist for them.
The typical key receipt form includes information about key receiver's contact details, company name, key stamp/number and of course the digital signature. In case of reception services, a tablet or a mobile phone can be used for collecting the information from the recipient himself. After sending the observation, incy.io then creates an open ticket of it with an automated reminder to follow-up in one day if keys are still in the possession of the visitor. Once the key is returned, the receptionist can close the ticket in the system.
All information from key number to recipients are transparently searchable for receptionists and property managers in the observation list view. Even if reception services or property managers change, the tickets from years ago can be easily checked by the new service providers.
Besides short-term key holders, this functionality can be used for all kinds of assets that are shared with third parties like access cards, building blueprints, visitor cards or other documents that need to be returned.
Product returns, complaints and claims
Since the rise of e-commerce and especially during the Covid-19 lockdown, product returns have been on the rise. Like product returns, complaints and even claims often lack a digital system to collect the relevant information from the reporter. Many times this is due to a heavy need of organisational specificity for the forms and a difficulty to train hundreds or thousands of employees to use them effectively.
With signature questions, incy.io can help organisations with the entire lifecycle from collecting the details from the customer to handling the follow-up actions and closing the case. Here's how it works in practice. An admin creates an open link (open links allow incy.io to be used when there is a need to report observations without user credentials) in Falcony | Observe that allows customers to only report observations to product return or claim categories. When collecting the information from the customer, the store clerk can fill in order details and then ask the customer to sign the given information digitally using a tablet or a mobile phone.
Memos that need to be verified with signature
Many of our customers had already found out that the platform can be used for safety toolbox talks and other types of memos, minutes and records. Not all of them require a signature from attendees but those that do, we are happy to say that it is finally available with the signature question type.
A use case where this has become necessary are HR memos to document (suspected) bullying or discrimination cases. The documentation of the memo follows the workflow created in incy.io and at the end of it, both the suspected bully and the bullied sign the conclusions and decisions made by the HR.
It's also worth noting that you don't need to create a separate category for the memo in discrimination cases. Instead the memo can be linked as a follow-up question group to the workplace bullying report and discrimination report categories. This way they are directly linked to the specific cases. Also don't forget that you can use the linked observation feature to link HR investigations to the discrimination reports to keep the investigation confidential.
Final thoughts
The signature question type has become beneficial for a lot of use cases of which we went through just a few examples here. Signature questions are available to all of our customers, so let us know if you want them enabled on your account.
If you don't currently have Falcony | Observe in use, and would like to, contact our support team or sign-up for a free trial to get started.
---
We are building the world's first operational involvement platform. Our mission is to make the process of finding, sharing, fixing and learning from issues and observations as easy as thinking about them and as rewarding as being remembered for them.‍
By doing this, we are making work more meaningful for all parties involved.
More information at falcony.io.

Arttu Vesterinen
Chief Executive Officer
Related posts
One of the most requested features we have ever received from our customers for Falcony | Observe...
Involve your stakeholders to report
At Falcony, we create solutions that multiply the amount of observations and enable our customers to gain greater understanding of what's going on in their organisations, areas of responsibility and processes.