A Quick Guide: Build Or Buy SaaS
Finding the right system for your organisational needs can be a time-consuming process. And it just might be so that you end up with the conclusion that you can't find a system that meets your requirements and you will have to develop and build the system yourself.
So to make the decision-making easier on you, we have made this blog post to help you find out whether what you are looking for in a system can be offered by a provider or if you should consider developing the system of your dreams internally in your company.
What is the problem you are trying to solve by getting a new system?
Do you already have a very detailed and specific outline of what the system should be able to do?
What are you going to measure?
Should the system be used by all your personnel or only management?
Will you implement the system for one or more functions of your company?
Keeping the answers to these questions in mind will help you navigate through this process, as they help you to determine what system you need. A system isn't just a tool that you use for a given task, it's something that you implement into your daily routine to improve processes which makes choosing the right system even more important.
Building A System Internally vs. Buying SaaS
Let us start with saying that there is no right or wrong answer here. Each option has its pros and cons, and it's really up to you and your organisation to decide which one is the best.
Building a system internally can be a good solution for you who has very specific and complex needs. But it will also be a very costly affair since it will not only cost you to get the solution made, but you will have to keep paying for the ongoing maintenance, and manage knowledge transfer from the people who made and maintained the system the day that they leave your organisation. These are things you avoid when you buy SaaS.
So to make sure that you make the right decision when you consider building your own system think about whether the system will improve productivity all the way through your organisation and talk to people in your network whom you know have built systems to fit the needs of their organisations to hear if whether they would recommend you do the same.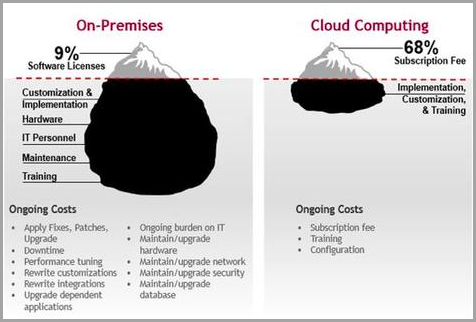 Image source: https://www.jeffbullas.com/the-rise-of-saas/
It's usually recommended that when considering building a system internally that you first check the market to see if there is a provider that can help you. If you have a lot of integration needs and the providers of existing solutions aren't willing to make those for you, then it can be a good idea for you to develop your own system.
However, if they are willing to make them, then it's advised to go with a provider, not just because it makes things cheaper for you in the long run, but also because it will save you time and resources on system maintenance.
Building Internally
Another point of why you might want to consider developing your solution internally is that you are restricted by company policies to use cloud based solutions and need an on-premise solution. Most good SaaS systems are usually cloud based and hard to implement on-premise, which is why many providers will tell you that it isn't possible to get.
However, what you might consider while building your own system is how the usability of it will be. Who will be using it and how do you want it to be used? If it's a tool that will be used for reporting observations in the field it's recommended that you think about simplicity and ease of use as an addition to the other more analytical and technical requirements you may have. Typically, you can find easy to use systems from SaaS providers which will give you a good idea of how things could be done.
Choosing SaaS
Getting SaaS is a good solution for you who is looking for a system that works right away after implementation. Often times when you choose to build a system internally you may need to go through a period of trial and error with the new system to see what should be improved to make it run as smoothly as you would like it to. With SaaS, you also get the flexibility to expand the usage and data capacity easily, which is ideal in an environment where you have to adapt to corrective actions, regulatory changes and more.
A SaaS solution is furthermore also fast to implement and set up, and most providers will help you to do the roll-out of the system so that you and your organisation are ensured a good start.
As mentioned above when you choose to build your own system it would usually be based on the fact that you couldn't find a SaaS provider who could or was willing to make the customisations to their system for you. However, many providers are incredibly good at customising towards your needs unless they get either too complex or too specific.
Most SaaS solutions are also focused on user-friendliness and will have mobile functionality so that your field staff can use them easily during their workday. On top of that you will get easy-to-predict license costs and small one-time costs. The license cost of SaaS is usually covering support, automatic security updates and new feature updates as well.
What's the right way for you?
To make things simpler for your decision process we made this quick guide. The guide is for you who is looking for a new system.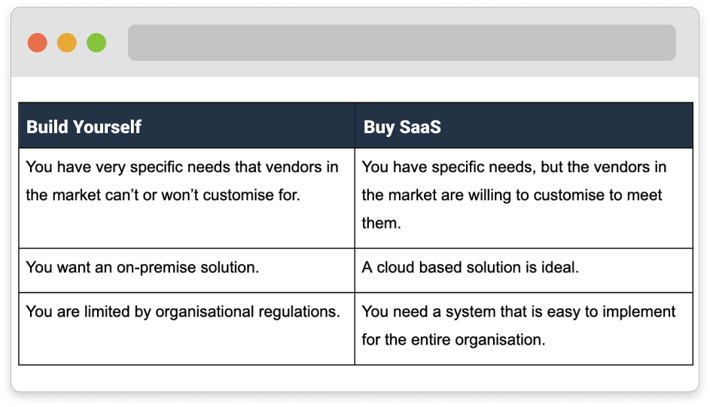 Final thoughts
Choosing the right solution for your organisation is always a hard task. But do consider all the pros and cons of both building your own solution and buying SaaS before making a final decision. Screen the market for potential solutions that could solve your needs first, and if you aren't able to find a vendor who can meet your needs then you can start considering whether you should build yourself.
We offer SaaS solutions for auditing and incident reporting. If you'd like to hear more about how we can help you, contact us or sign-up for a free trial.
---
We are building the world's first operational involvement platform. Our mission is to make the process of finding, sharing, fixing and learning from issues and observations as easy as thinking about them and as rewarding as being remembered for them.‍
By doing this, we are making work more meaningful for all parties involved.
More information at falcony.io.

Konsta Vesterinen
Chairman of the Board
Related posts
Building inspections is a familiar task for facility managers. But sometimes it's a good idea to...
Involve your stakeholders to report
At Falcony, we create solutions that multiply the amount of observations and enable our customers to gain greater understanding of what's going on in their organisations, areas of responsibility and processes.