A Quick Guide: How to Categorise Software Usage in Your Organisation
In the last blog post in this series we talked about how you can choose the right vendor for your software module needs, as well as areas you should consider when choosing and implementing a new tool in your organisation.
This time we will dive further into how you can categorise the usage of the software, whether the implementation was done well, and if the software is being used how you intended it to be.
Let's pick up where we left off, and speak about the 4 different buckets of usage; "Specialists", "Cornerstones", "Necessities" and "Gambles".
Consider the different software used by your organisation, I'm sure you can think of a couple just on the top of your head.
Now try to map them inside the matrix below solely based on two axis, Impact and Reach: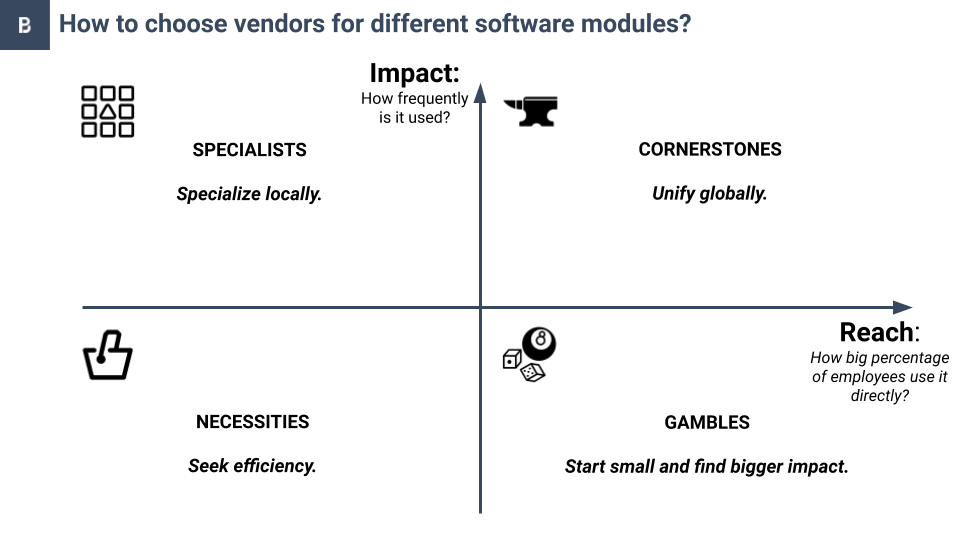 To map the impact of the software module, consider it on a scale of 0-100 between the following score categories:
0-25: "Yeah I guess it's nice to have, but doesn't make sense to pay for it." → Equals to biannual usage.
25-50: "This is nice and is kind of helpful for us." → Equals to monthly or quarterly usage.
50-75: "We need this, but we can live without it for a while." → Equals to weekly or monthly usage.
75-100: "We absolutely can't live without this." → Equals to daily usage.
For anything that is under the score of 50, goes into the buckets of Necessities and Gambles and anything over the score of 50, goes into Specialists and Cornerstones.
To map the Reach of the software module, you can use once again the scale of 0-100 and use the following score categories:
0-25: Nobody or just a few people are or should be using.
25-50: One tenth to one fourth of the people are or should be using.
50-75: At least one third of the people are or should be using.
75-100: Everyone are using the are or should be software
Notice that we consider one third to be a high amount here but this is more organisation specific that impact because organisations differ by size so much. For SME with 200 employees, anything less than 50% should be below the score 50.
Also note that you can use matrix regardless of how you look at your organisation, whether by department or by country. Each of them represents a unit that you can use for analysis. However, to take the analysis further you should also consider the global view of the organisation because this is how the management of your organisation views it and those are the people who you need to persuade to make the decision in the end.
How modules can be moved between the buckets
Next, consider, what are the potential opportunities for the tools or modules to move between the buckets. This is an important consideration to make in case you have a tool in use by e.g. just one function or one department that could help another or more functions or departments in your company, or in the case a tool is essential for the entire organisation but at risk of not being used.
Let's start with an example of safety management software stack that consists of multiple modules from incident reporting and audits to SDS management. There might be more but for the sake of simplicity we have chosen the following: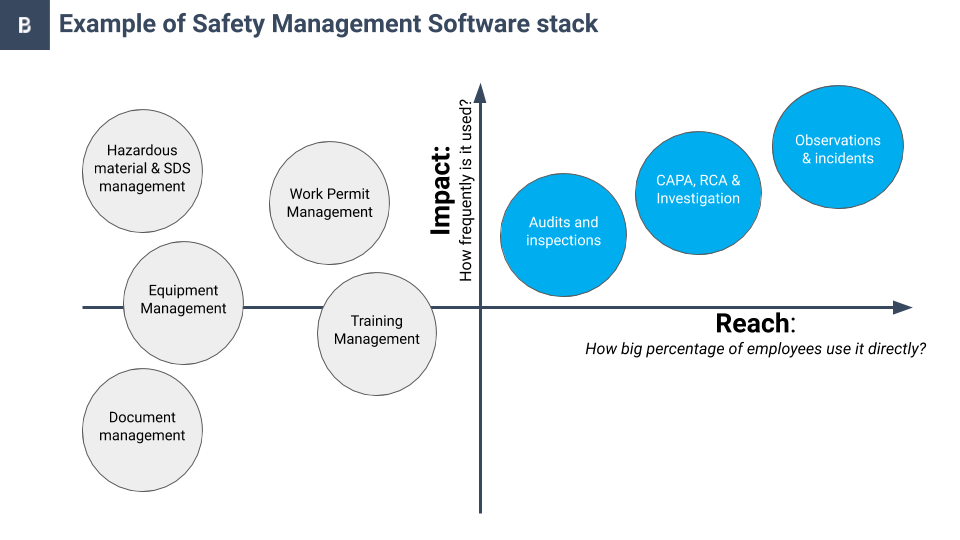 Now some of you may have all of the following in one comprehensive management system but it's still helpful to analyse all the modules' reach and impact separately to identify opportunities.
How you can identify potential increases and decreases in impact or reach of a software can be mapped in the following ways.
From Necessity to Specialist
Most of the ERP's and function specific systems contain a lot of modules or parts in them. By looking at them individually you may notice that many of them are being utilised by just a small team but what's worse also used very rarely. So the first place is always to look at your own internal resources and consider carefully if you could get better ROI of the modules by using them more often. If this is not possible, the next best thing you can do is to seek efficiency and reduce costs of that specific Necessity module.
From Necessity to Cornerstone
Let's say you are paying a hefty amount of money for the document management module in your Safety Management system but at the moment it's only used by the HSEQ team. At the same time, you have noticed the need for company wide document management implementation. Should you push the module you are using for global use or choose another one? Either way, the impact and reach are about growth.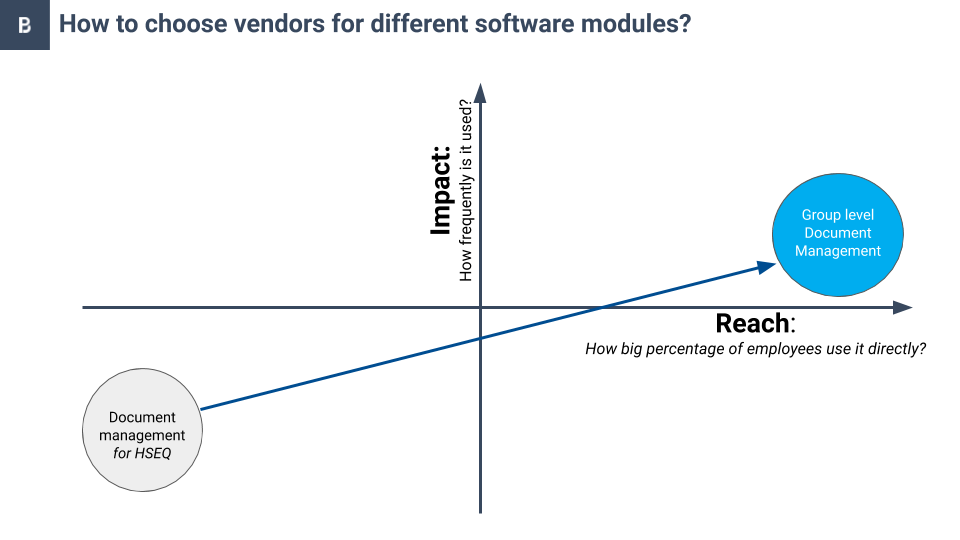 Another example of software stack is for Sales and Marketing, a field that nowadays consists of tens of thousands of options. Below is an example how the different solutions might be mapped to the matrix. Note that in marketing, the tools are often from separate providers whereas in Safety Management, many providers try to provide all at once. Neither is specifically better compared to the other but you can use the framework for each case.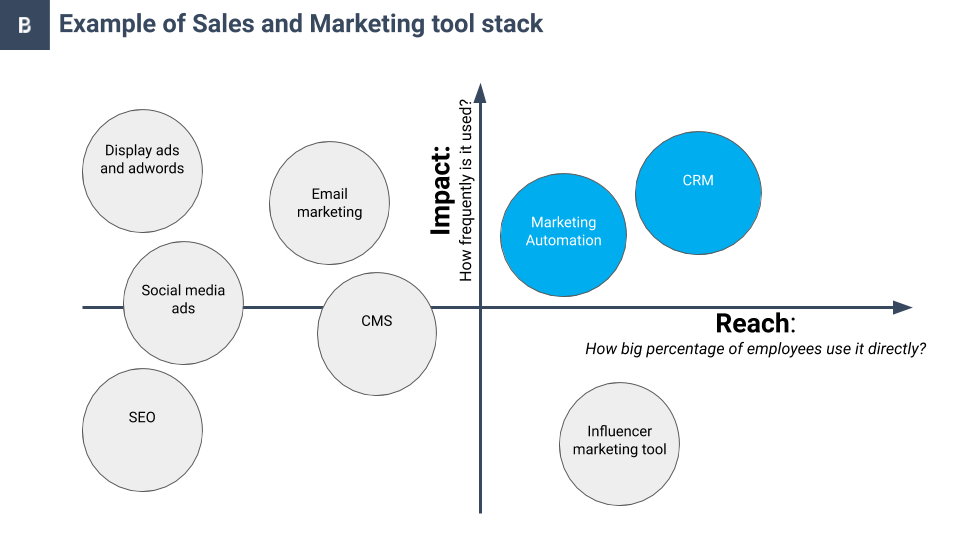 As the above matrix shows, this company was looking for software solutions for different areas of marketing. Again, to see how different modules and solutions could be moved between the buckets, start by thinking if combining them or separating them makes sense. If a very locally used module is not being utilised, could you combine it to a bigger stack or reduce costs?
What if intended Cornerstones become Gambles:
Let's look at a third example. Just as "bring your own devices" became an IT Security problem in the early 2000's, bringing your own software has created the same in 2010's and 2020's. WhatsApp, Facebook's app for instant messaging, is mainly intended for consumer to consumer use but many companies have started to chat business related conversations there as well.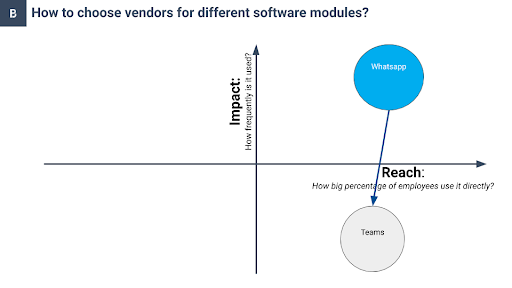 In this case the company has decided to implement Microsoft Teams for their internal communications to replace WhatsApp, but the employees have kept using WhatsApp as their main communications channel. Teams have therefore become a Gamble for the company and WhatsApp has stayed as an unintended Cornerstone. Notice also that Gambles often feel like Cornerstones because the IT department or management may have defined them to be a high priority or because they are part of a larger entity (like MS Office 365), but what matters is that you look at each module and their impact and reach individually.
Final thoughts
Making sure that a software you invested in is being used to its fullest potential should always be a continuous priority. If a software you are currently using for something specific or was needed for your company to get, try to see if you can expand on its use further and make it either Specialist or even better, a Cornerstone. Try to avoid having gambles in the tools you use. The money invested in those will only go to waste as long as the impact cannot be increased. If you do have these, try to see if you can get them back in higher usage, and if not try to see if you can either negotiate a smaller pricing package for them or ditch them altogether. We always recommend optimising to the maximum use of the software you have, as in the long run that will give you the best Return on Investment.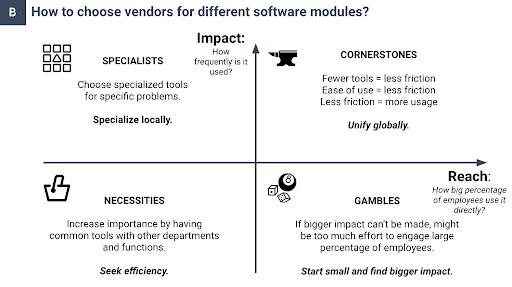 To summarise the framework, in the above picture are some tips for each category:
Specialists: If you can't increase the reach through integrations or engaging more people, specialise the tool to solve a specific local problem that you have.
Cornerstones: Unify the usage globally and keep seeking ways to increase the reach and impact of them.
Necessities: First, aim to increase the impact and reach of the tool usage. If this isn't possible, seek cost reductions.
Gambles: If a solution has dropped here but it's still a high priority, gather resources and find small steps to increase the frequency of usage. Gamble that stays a Gamble despite these efforts, should be cancelled altogether.
We at Falcony develop SaaS products to help organisation with incident reporting and inspections for global use. If you are interested to learn more about our tools, contact us
---
We are building the world's first operational involvement platform. Our mission is to make the process of finding, sharing, fixing and learning from issues and observations as easy as thinking about them and as rewarding as being remembered for them.‍
By doing this, we are making work more meaningful for all parties involved.
More information at falcony.io.

Arttu Vesterinen
Chief Executive Officer
Related posts
"I've failed over and over and over again in my life and that is why I succeed." - Michael Jordan
Involve your stakeholders to report
At Falcony, we create solutions that multiply the amount of observations and enable our customers to gain greater understanding of what's going on in their organisations, areas of responsibility and processes.